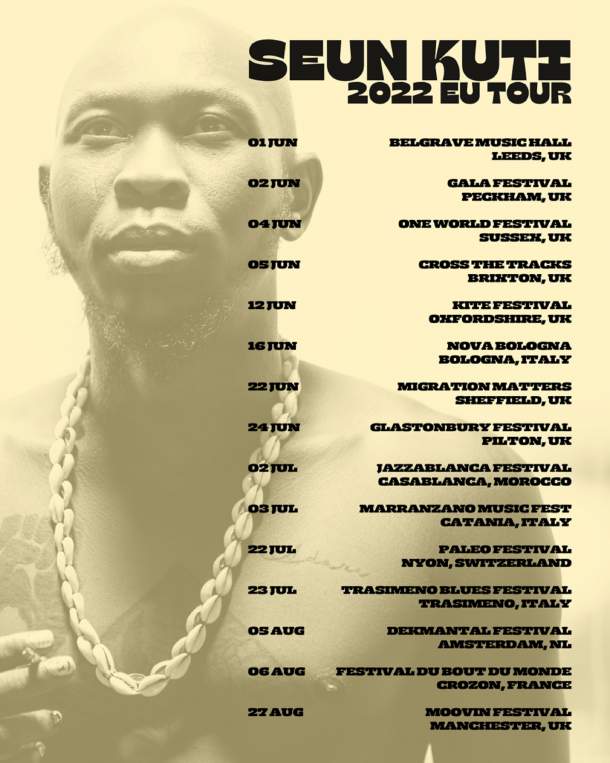 Afrobeat Legend Seun Kuti & Egypt 80 announce a European and North American tour with 24 dates and counting!
Legendary Afrobeat artist and descendant of the Kuti family SEUN KUTI & EGYPT 80 has an upcoming tour of the United States and Europe, Knitting Factory Management director Annie Ohayon announced today. Seun and his band Egypt 80 kick off their UK tour on June 1 and are currently booked through September 23 at the new Format Festival in Bentonville, Arkansas, USA. They stop at major festivals like Glastonbury and unique venues like the Musical Instrument Museum in Phoenix along the way – 24 dates in all, with more European dates possible in October.
"I'm excited to be back on tour after too long of a break," Seun said. "My band Egypt 80 and I look forward to returning to the world stage and hope, as always, that our music will help make the world a more generous, kinder and more livable place, not only for the fans but also for those under it. -represented."
On tour, Seun Kuti & Egypt 80 will perform songs from his catalog and his latest album Black Times. Seun also rehearsed and recorded several new songs that he plans to perform on tour.
Seun took time off on the road but remained creatively active. He first performed the song "When We Move", a collaboration with Common and Black Thought – co-founder and MC of The Tonight Show house band The Roots – last June in front of a global audience alongside a list of featured musicians for UN World Oceans Day. In this song, Seun continues to ask the tough questions: "Would they feel the pain like we do? Would they hear a cry like we do?
The trio then debuted with a live performance of "When We Move," on Jimmy Fallon's The Tonight Show last August, which featured Seun's performance and dance footage from the New Afrika Shrine in Lagos interspersed with live performances. of Common, Black Thought and The Roots on stage at Rockefeller Center in New York.
The current tour dates/locations are as follows:
6/1 – Belgrave Music Hall – Leeds, UK
6/2 – Gala Festival – Peckham, UK
6/4 – One World Festival – Sussex, UK
6/5 – Crossing the Tracks – Brixton, UK
6/12 – Kite Festival – Oxfordshire, UK
6/16 – Nova Bologna – Bologna, Italy
6/22 – Migration Issues – Sheffield, UK
6/24 – Glastonbury Festival – Pilton, UK
7/2 – Jazzablanca Festival – Casablanca, Morocco
7/3 – Marranzano Music Fest – Catania, Italy
7/8 – Railyard Plaza – Santa Fe, New Mexico
7/9 – M.I.M. – Phoenix, Arizona
7/10 – The Alibi – Palm Springs, CA
7/12 – Belly Up Tavern – Solana Beach, CA
7/13 – Lodge Room – Los Angeles, California
7/14 – The Independent – ​​San Francisco, CA
7/15 – The Independent – ​​San Francisco, CA
7/16 – California Worldfest – Grass Valley, CA
7/22 – Paléo Festival – Nyon, Switzerland
7/23 – Trasimeno Blues Festival – Trasimeno, Italy
8/5 – Dexmantal Festival – Amsterdam, Netherlands
8/6 – End Of The World Festival – Crozon, France
08/27 – Moovin Festival – Manchester, UK
9/24 – Festival Format – Bentonville, AK