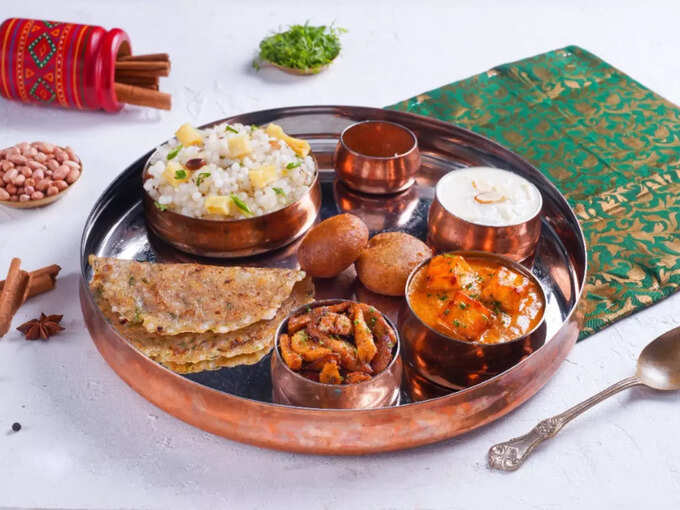 Don't Be Brave Cooking Navratri Dishes After Fasting, Break Fast With Less Money At These Restaurants In Delhi
Navratri, the nine-day festival, is only a few days away, just as every festival is incomplete without food, in the same way this festival also fades away without the food of its fast. During this nine-day festival, after worshiping overnight, fast food is prepared, in which people make buckwheat flour pakoras, make puris, make sago khichdi, and many of these things prepare the fast food. it happens. But the case hangs on doing it, because after keeping the fast all day, almost no one has the courage to cook at home. In such a situation, if you are looking for an outdoor restaurant, where Navratri food is prepared or served, the whole family can go to the restaurant mentioned in this article for a meal.
Anna Maya – Anna Maya
If you want to eat delicious food during these nine days, that too of different varieties, then visit Annamaya at Aerocity. Annamaya's kitchen prepares the Navratri thali using ingredients from organic farming. Here you will find Kottu Puri, Sabudana Khichdi, Samak Chawal and many other delicacies prepared with the fasting meal in mind. So just order the following and enjoy the delicious food.
Location – Aerocity
Price – Rs 1250 (price may fluctuate)
After Shradh, go out for wedding shopping, 'Lakshmi Nagar', this market in Delhi is none other than Chandni Chowk
(Photo credits: TOI.com)
Tamarind – Imly
Tamarind's Navratri menu includes paneer popcorn, sabudana chaat, raw banana shami and ari kadhi among many others. Here you will see a good list of dishes in their outlet, so whenever you order food or decide to eat in their restaurant, look for a place nearby.
Location : Selling points will be found in many places
the penalty: 320 rupees for a plate (price may fluctuate)
After Shradh shopping in Navratri in these markets in Delhi you get very cheap goods for girls
(Photo credits: TOI.com)
Bikanervala – Bikanervala
This is one of the best places for Navratri thali which needs no introduction. Here you will find a fruitful feast for devotees in all varieties. The quality of food here is so good that you will keep licking your fingers even after fasting.
Location – You will find its points of sale in many places
Less than 5000 lehengas are available in these Delhi markets, the beauty is such that even the bride will fail in front of you
Sattvik Restaurant
You must have learned from the name of the restaurant that sattvik and purely vegetarian food will be available here. You shouldn't stick to the name Sattvik, the food here is so tasty that even people who like non-vegetarians come here to eat the food. The special Navratri thali at Sattvik restaurant consists of sweet potatoes, khatta meetha petha, kuttu ki puri, sam ka rice and other delicacies.
Location – Saket, New Delhi
the penalty: 875 rupees
The first copy of 'Zara' 'H&M' is available at these Delhi markets on Sundays, shop by filling bags for Rs 500
Veggie Gulati
Vegetarian dishes are also served at Veg Gulati. You must also try something or the other from the vegetarian food menu. The special thali here includes Vrat papad, Sabudana tikki mixed with chutney, three vegetarian dishes. You will find rice, kuttu puri and paratha, raita, a dessert and a fruit salad. You will also get a glass of Jaljeera or Chacha to accompany this plate.
Location : India Gate, New Delhi
the penalty: 725 rupees