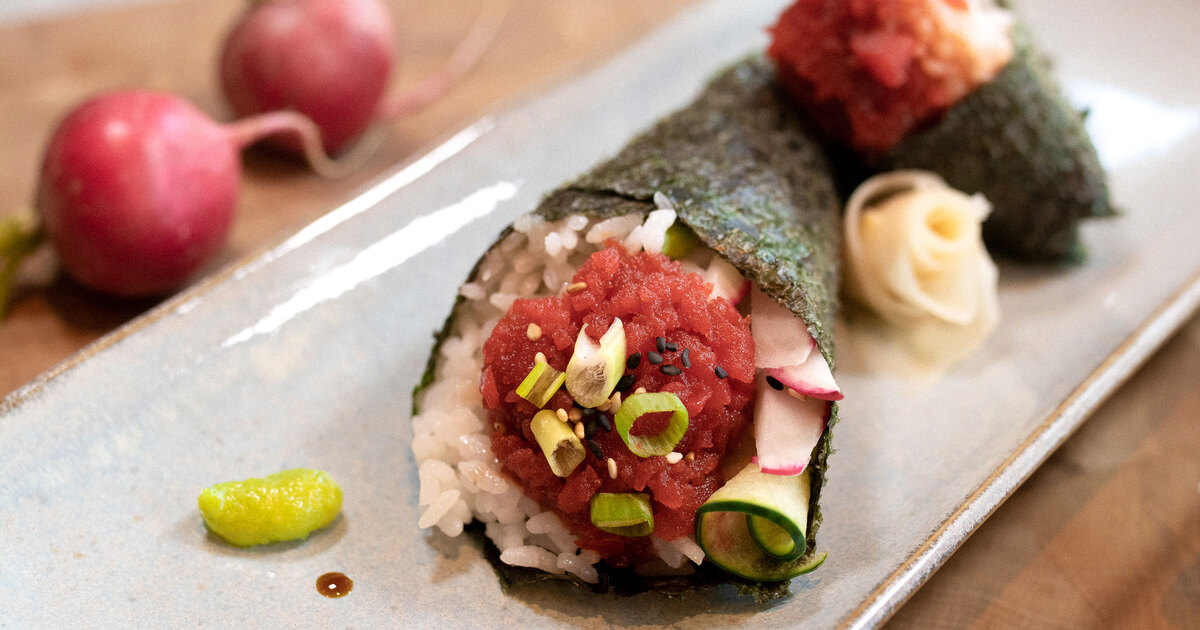 How this new vegan bluefin tuna provides an ocean sustainability solution
California-based vegan seafood startup Impact Food recently secured $500,000 to help build a more sustainable food system, starting with sushi-grade raw vegan bluefin tuna. By doubling down on developing the right seafood flavor, texture and experience, the Impact Food team hopes to provide a solution to save the ocean's most vulnerable animal populations.
Founded in 2021 by University of California, Berkeley graduates Kelly Pan, Stephanie Claudino Daffara and Adrian Miranda, Impact Food is driven to create new solutions to build a more sustainable and resilient food system. By combining their knowledge of food science, molecular biology and business, the team's mission is to provide a sustainable solution using plants, but without compromising the flavor of seafood.
"We decided to start with a whole, vegan alternative to tuna because tuna is both the most consumed fish in the world and one of the most endangered animal species in the world," said Kelly Pan, co-founder of 'Impact Food, at VegNews. "Bluefin tuna is known for its delicate texture and subtle oceanic flavor that is perfect for popular dishes like sushi. It is also an apex predator that helps maintain the health of our oceans.
Impact food
Save the oceans with plant-based seafood
Impact Food believes that plant-based seafood is the solution to restoring and maintaining healthy ocean ecosystems. Unlike conventional animal-based seafood, vegan alternatives do not contribute to common seafood sustainability issues, such as overfishing, pollution, and bycatch. According to the Food and Agriculture Organization of the United Nations, 90% of fish stocks are currently fully exploited or overexploited. Additionally, fish cultured in aquaculture systems require an unsustainable amount of land and resources to produce and feed them.
The Pacific bluefin tuna, in particular, is currently listed as "near threatened" by the International Union for Conservation of Nature with a declining population. With its plant-based Impact Tuna, Impact Food hopes to ease the burden on our oceans and specifically the Pacific bluefin tuna stock. "Due to the growing global demand for seafood, overfishing has continued to decimate the tuna population at an alarming rate," Pan said. "We have created a delicious plant-based tuna so that fish stocks can finally recover from decades of ecological damage and tuna can continue to restore balance to our marine ecosystems. But tuna is just the start, there are so many other seafood species and cuts to explore.
Impact Food's Vegan Tuna is designed to provide the same nutritional content as conventional seafood and is made with three key ingredients: pea protein with all nine essential amino acids, seaweed for omega-3 fatty acids and beet juice for a natural red color while also providing potassium and other healthy minerals.
Impact food
Impact Food has also developed an exclusive system to recreate the unique meaty texture of tuna. "We've developed a new texturing process that transforms our proprietary blend of protein and algae-derived ingredients into the complex, fibrous texture of whole seafood," Pan said. "This allows our all-plant, sushi-grade raw tuna to deliver the consumer the melt-in-the-mouth sensation of meaty tuna, in addition to nutrient-rich protein and the taste of the sea in every bite."
Putting vegan tuna on the market
Thanks to Impact Food's recent angel funding round, made possible by investors including the Ahimsa Foundation, Future Food Fund (Japan), Serpentine Ventures, George Sobek and Pierre Jouve, the startup can move forward with the commercial launch of its first product. The startup's product roadmap will include additional seafood products, such as shellfish. Later this year, Impact Food plans to develop and execute its pilot production plans. Previously, the company built its research lab in KitchenTown, a food innovation lab in San Mateo, Calif., with support from food science and strategy advisors.
Starting early next year, Impact Food plans to introduce its Impact Tuna at select restaurants and catering partners in the United States and Japan, followed by a mass market launch by the end of 2023. .
Impact food
Ultimately, Impact Food sees a future food system capable of reliably and sustainably feeding the world's growing population while protecting our oceans and marine life. "As we continue to innovate and grow our plant-based seafood, our goal is to rebuild the center of the plate with a new seafood product that's tastier, better for our people, our planet and our animals, without harmful mercury, parasites or antibiotics," Pan said. "We strive to make our plant-based seafood available and accessible to consumers around the world and to have a positive impact on the food system a sushi roll or [insert your favorite seafood dish] at a time."
For the latest vegan news, read:
Will climate change put an end to animal agriculture?
James Beard names 2 vegan chefs to his Legacy Network
How Fine Vegan Cheese Bids for Dairy Deal
JUST LAUNCHED!
Vote for the 2022 awards for the best vegan ice cream in the United States.
VOTE HERE
JUST LAUNCHED!
Vote for the 2022 awards for the best vegan ice cream in the United States.
VOTE HERE