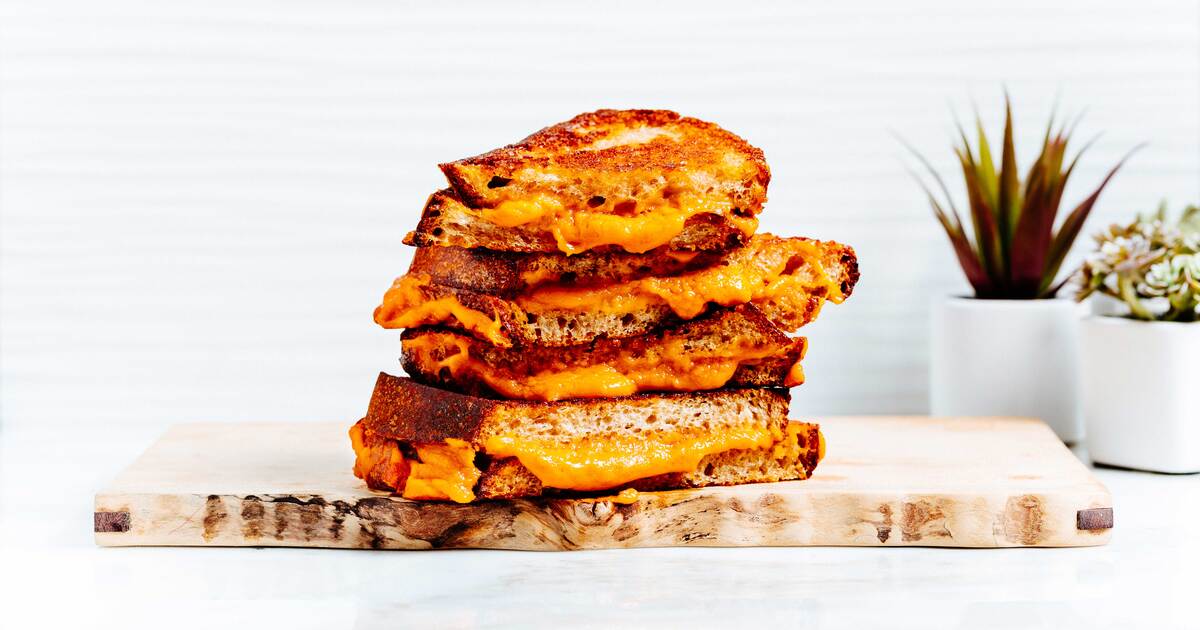 How to Cook the Perfect Vegan Grilled Cheese (and 9 Twists You Need to Try)
For many of us, a classic grilled cheese sandwich, crispy on the outside and gooey in the middle, tops our list of comfort foods. And while it's not a difficult sandwich to make, a few subtle tricks — and being aware of common mistakes — can take this grilled cheese sammy from good to delicious.
How to make vegan grilled cheese
A successful vegan grilled cheese has only a few requirements. "It should have lightly browned bread and melted cheese, lightly greasy and lightly salty," says Michael Suchman, co-author of NYC Vegan and the other half vegan activists VeganMos. Suchman adds that grilled cheese reminds him of four or five years old when his mother made him grilled cheese for lunch. Back then, however, grilled cheese was little more than Wonder bread and non-vegan Kraft singles.
Luckily, grilled cheese has come a long way since the 1970s. To get it right, start by making sure the bread you're using isn't too thick or the cheese won't get hot enough to melt. Also check the crust. "I prefer a soft crust bread for my grilled cheese, so it's easier to bite into once it's done," says Suchman. If the crust of bread is too hard before baking, it may be difficult to eat after toasting. Then choose a vegan cheese that melts easily, otherwise your bread will burn before the sandwich is done. Suchman prefers slices, but shreds can also work in a pinch.
Although you may be tempted to brush vegan butter on the outside of the bread, break the habit. Instead, use a light spread of vegan mayonnaise. Why? "It tastes better," Suchman says. If you are adding toppings to your sandwich, place them in the middle so the sandwich is layered like bread, cheese, toppings, cheese, bread. (Pro tip: If you're using vegan meat like ham or bacon, cook it separately before adding it to the sandwich.) Then start cooking over medium-low heat so the bread browns slowly and the cheese melts. Once it's golden brown, flip it over and cover the pan with a lid. If cooking on a griddle, cover the sandwich with a pan lid to trap in the heat and help the cheese melt.
Creative takes on a classic
If you're looking for grilled cheese inspiration, try these nine unique creations from vegan bloggers.
Hell yeah it's vegan
1 Jackfruit Vegan Grilled Cheese (Three Ways)
Can't decide between chipotle, green chili or buffalo jackfruit? Hell Yes It's Vegan blogger Claire Slattery brings you three unique ways to add your jackfruit preference to your grilled cheese.
Get the recipe
Dots and pencils
2 Grilled Cheese Vegan Jalapeño Popper
Turn your favorite appetizer into grilled cheese! This recipe by Jenn Laughlin of the Peas and Crayons blog is sure to please that jalapeño-loving palate with that spicy twist.
Get the recipe
The colorful kitchen
3 BBQ Vegan Grilled Cheese
Simple is the name of the game with Ilene Godofsky Moreno from The Colorful Kitchen sandwich, which uses carrots and barbecue sauce. Slip in some spinach and red onions and you get a savory twist.
Get the recipe
When sweet becomes healthy
4 Avocado Vegan Grilled Cheese
Avocado lovers, this one's for you. Add pickled onions, kale and spices, and your grilled cheese just got a massive upgrade, thanks to Nicole Berth of When Sweet Becomes Healthy.
Get the recipe
Vegan Richa
5 Cheese Sandwich with Smoked Black Bean Nachos
Count on blogger and author Richa Hingle of Vegan Richa to give those taste buds something to talk about. Smoked (or refried, if you prefer) black beans might become your go-to addition.
Get the recipe
Doesn't taste like chicken
6 Vegan grilled cheese with caramelized onions and mushrooms
Got some health nuts who want to veggie their grilled cheese? It Doesn't Taste Like Chicken blogger and author Sam Turnbull has your back with this tasty onion and mushroom version.
Get the recipe
neurotic mom
seven Vegan grilled cheese with balsamic berries
Holy grilled cheese! Jennifer Rossano of Neurotic Mommy is the mastermind behind this sweet berry-filled concoction. If there were Golden Globes for grilled cheese, this would surely be a winner.
Get the recipe
Six Vegan Sisters
8 Vegan macaroni and grilled cheese
Yes, you really can add mac and cheese to anything, including grilled cheese. The sisters behind Six Vegan Sisters not only stuff their famous mac and cheese between two pieces of bread, but they also add more cheese for the ultimate cheesy comfort food.
Get the recipe
nutrient
9 Healthy Vegan Grilled Cheese Sandwich
Health nuts, Alena from Nutriciously created this one for you, because this healthy version is loaded with vegetables like avocado, zucchini and spinach. You will make your own cheese sauce before assembling and cooking the sandwich in a skillet.
Get the recipe
For more vegan cheeses, read: