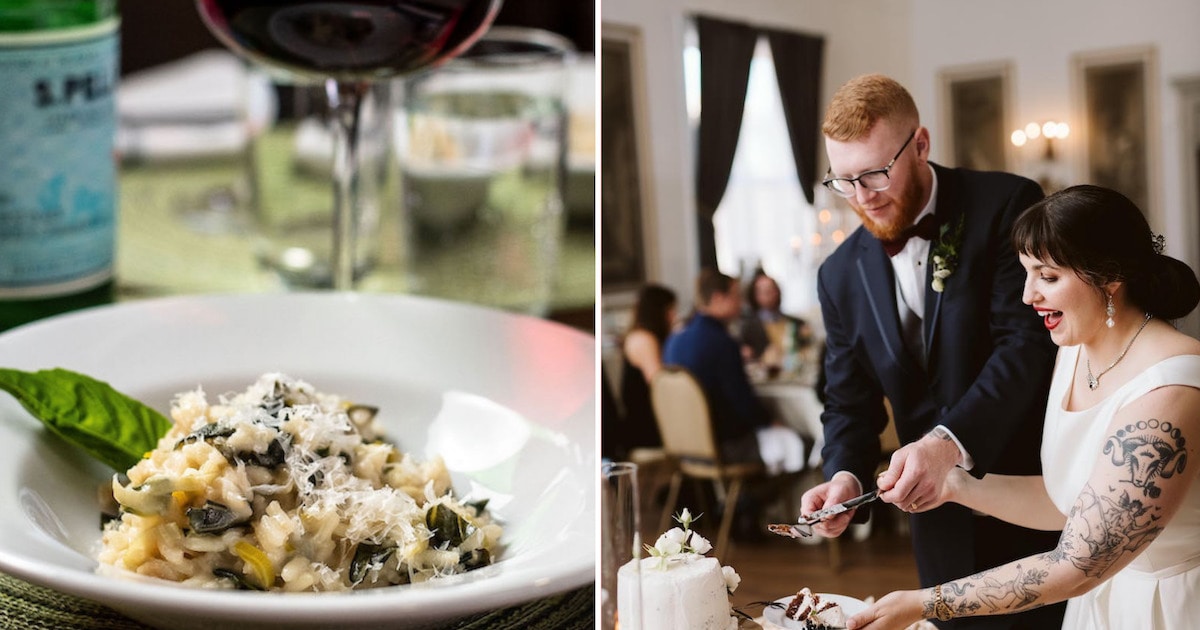 How to Host a Vegan Wedding Everyone Will Love
2021 has proven to us that love is not fleeting, but eternal. Countless couples who were due to wed in 2020 have put their plans on hold, and we're still experiencing this tidal wave of weddings after a year of pent up love and delayed ceremonies. Obviously, love is worth the wait. We're all set to dine, dance, and grab a bouquet or fight over a garter, but we want to keep it vegan. Many couples have a dear Aunt Sally who will scoff at the "rabbit food" menu or a cousin William who will feel personally offended that his choice to eat a buffet-style steak will be taken away from him. That's why we called in the expert. Suzy Silvestre of Chive Kitchen in St. Louis, MO has been hosting vegan weddings and special occasions for years. She knows exactly what will appeal to all types of wedding attendees, from a Bridezilla to Aunt Sally and Cousin William. From appetizer to cake, here's what to serve for a magical vegan wedding.
"You don't cook vegan; you cook foods that happen to be vegan. —Suzy Silvestre
Soothe every guest
You've made the decision to have an all-vegan wedding – congratulations! Silvestre says you don't have to advertise it, especially if you're inviting a mixed company of eaters. The food should speak for itself. After enjoying a multi-course meal of Balsamic Roasted Portabello Steaks with Sour Cream and Onion Mashed Potatoes, Red Wine Demi-Glace and Caramelized Onions, Caesar Salad, Cheese Baked Mostaccioli and roasted seasonal vegetables, few guests will realize that not a touch of meat or dairy graced their plates. Instead, they will be satisfied and curious to know what was in that wonderful dish of mashed potatoes. Bonus: Unlike heavy animal-based entrees, your guests will feel light enough after a plant-based meal to jump onto the dance floor instead of sitting awkwardly at their assigned tables.
Caterers like Silvestre focus on flavor and appeal, not missing ingredients like butter or roast chicken. "When we see our plated dinners come back after the service has been licked, we know we've hit the mark. I don't emphasize that it's vegan. The focus is on good food, creative food and beautiful food," she said.
Chuk Nowak
Custom orders
Asked about popular items served at weddings, Silvestre suggested couples make their decision based less on routine and more on their unique celebration. Think of sentimental dishes and drinks for you as a couple or for your respective families. Do you want to give a nod to your mom's famous holiday cheeseball? Is Taco Tuesday marked on your calendars? Does your partner really, really want vegan lobster rolls at your Maine wedding? Work with that and let it guide your menu. A quality caterer should be able to capture your vision, likes and dislikes to create a spread that speaks to you as a couple.
Silvestre offered some examples of custom wedding menus she has created. "I made a Wisconsin-inspired vegan dinner, a New Orleans-inspired dinner, and special, sentimental individual dishes and cocktails for the family. I don't want my customers designing the menu, I want to give them something special that they didn't know they could get," she explained.
Chuk Nowak
The essential hits
While the personalized menus will always resonate with the happy couple, there are edible items that will have all the guests talking (and the bridesmaids taking note whenever their special day arrives). The portabello steak with sour cream and onion mashed potatoes mentioned above is always a hit according to Silvestre. It invites a sense of a traditional wedding while adding herbal elements of I do not know whattasting notes. Expanding on the concept of mashed potatoes, Silvestre admitted that guests don't seem to have enough potatoes no matter what time of year. She suggested a mashed potato bar where guests can help themselves to a variety of savory toppings from vegan cheese to fresh chives and more. Carbohydrates in general tend to be popular — pasta is also "universally loved," Silvestre said.
"When we see our plated dinners come back after the service has been licked, we know we've hit the mark. I don't emphasize that it's vegan. The focus is on good food, creative food and beautiful food. —Suzy Silvestre
Aperitifs, buffets and plated dinners
Appetizers are a must to keep guests happy and busy while the bridal party takes its time getting the perfect shots. Personally, Silvestre loves aperitif stations. Although she admits that more variety means more money, several options enhance the customer experience and allow the foodie couple to have fun choosing the different light bites.
When choosing a buffet versus a plated dinner, Silvestre outlined the pros and cons of each. "I think customers can also enjoy a buffet or a plated dinner. A buffet is more affordable and allows customers to choose their items and fill their plates. But there's something about a plated dinner that makes you feel really special and taken care of. We have many requests for family style dinners that encompass both buffet and plate. I find the family-style fun and a bit more affordable than plated.
Paige Young
dessert time
We asked Silvestre about popular cake flavors, and while she provided a few options, she reinforced the concept of customization…and forgone the traditional tiered cake altogether. Dessert stations are all the rage, and like a buffet, they allow for more variety and interaction with customers. To combine tradition and trend, Silvestre recommends ordering a cupcake to present, cut and freeze for the first anniversary coupled with a dessert station featuring a mix of sweet treats (among which, of course, can include a cake in the form of cupcakes or slices).
Still hooked on cake flavors, we found a few options at Silvestre. Strawberry basil, lemon-blueberry, mocha and carrot cake are popular, as well as its signature creation: the pink squirrel. She assured us it was completely vegan. The delight is an interpretation of a Pink Squirrel cocktail (cream of pits, heavy cream and white cocoa cream), inspired by a bride's grandmother. Although this is only available from Chive Kitchen, it demonstrates that you don't have to go for the standard white-on-white with raspberry filling – get creative and see what your cake artist can do.
Chive cooking
It all boils down to the little things
Silvestre emphasized that it's the attention to detail and unique touches that enhance a wedding celebration. Compulsory wedding favors are actually falling out of favor, but food-related takeaways are still appreciated. This caterer extraordinaire suggested donating mini liquor bottles, chocolate truffles, or bottle openers. "You can never have too many wine openers or bottle openers," she reasoned. "And to keep it edible, a truffle or a piece of chocolate is something everyone can be happy about." We personally wouldn't mind taking home a piece of cake as a favor. Cake-sized or Tupperware take-out containers are sure to be a hit if you plan on having leftover sweets.
Tiny embellishments and intentional touches to every beverage served and appetizer enjoyed also help enhance the guest experience. "A guest leaving the ceremony receiving a small pink cocktail adorned with a sprig of rosemary or a fresh flower will set the mood. The guest may not know that a little garnish gave them such joy – he just knows he had a good time," Silvestre said.
chuck nowak
Sample soul menu
After hosting hundreds of weddings and events, we needed to know what Silvestre would serve his own shindig. She didn't hold back. The focal point would be a soul food station complete with vegan fried chicken sandwiches, coleslaw, hot sauce, mashed potatoes and gravy, smoked green cabbage, macaroni and cheese and Caesar salad. But she didn't finish. A self-proclaimed partier, Silvestre envisions multiple dining stations to engage guests. In addition to the Soul food station, his event would feature a taco station, a carnival station of mini corn dogs and funnel cake, a cold appetizer station stocked with salads and canapes, a cocktail station with a wall of margaritas and a dessert station. featuring "a multitude of desserts in different colors and sizes".
What we do with it: Forget the flowers and blow the food budget. It's much more fun.
For more on vegan weddings, read:
Chef Chloe Coscarelli Hosts Colorado Vegan Governor's Wedding
Vegan wedding with Maria and Christian
Vegan wedding with Rohini and Siddhant
Subscribe to VegNews before February 20 and receive our Winter Wellness issue for FREE!
Subscribe
Subscribe to VegNews before February 20 and receive our Winter Wellness issue for FREE!
Subscribe