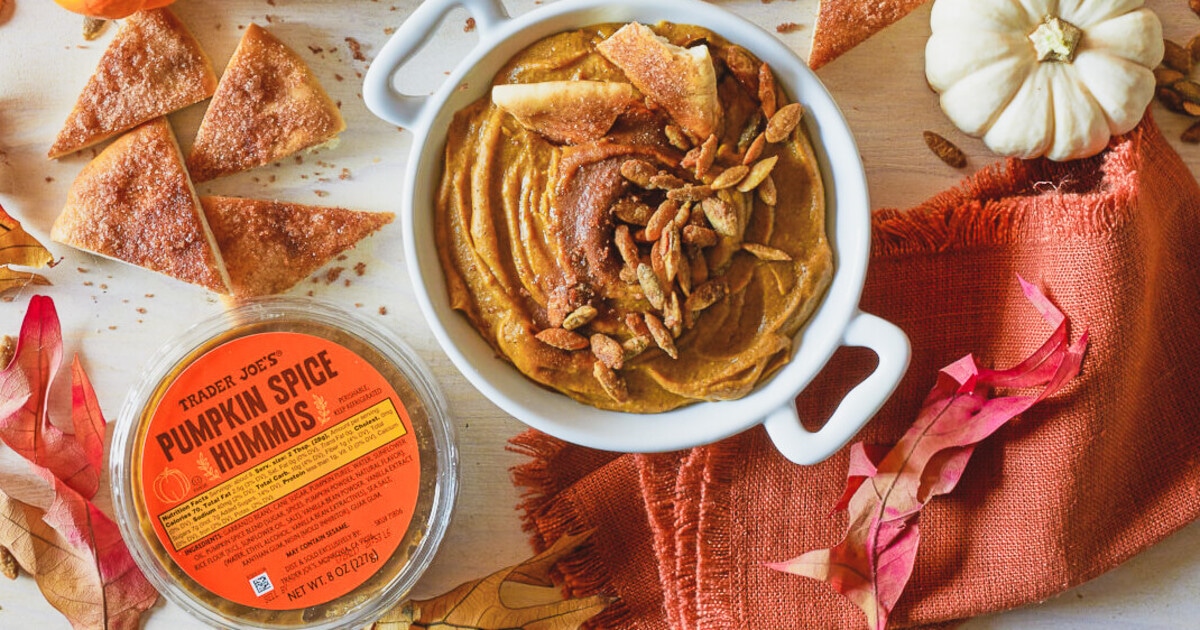 It's finally pumpkin season at Trader Joe's. Here are the best vegan finds
A chill is in the air (in some parts of the country), the leaves are slowly starting to change color, and Starbucks still refuses to offer a vegan version of its iconic Pumpkin Spice Latte. It's official. Pumpkin season has arrived. And our favorite vegan one-stop grocery store knows it. With everything from pumpkin sandwich cookies to spiced almond drinks, Trader Joe's has become our go-to whenever we're craving some Jack-O-Lantern-inspired fall foods. Unlike PSL, Trader Joe's pumpkin items don't sit on shelves from late August through January. These products are hyper-seasonal, and when they're gone, we have to say goodbye until next fall. Here are 14 vegan pumpkin products to stock up on now.
Halloweenology/Instagram
1 canned pumpkin
Between baked goods, smoothies, soups, and bowls of morning oatmeal, we can't even imagine how many boxes of pumpkin puree we go through during the fall season. From September to November, our cupboard is never short of at least one can of this smooth squash.
Sarah Nicole Ray
2 pumpkin rolls
Miraculously, most ready-to-bake cinnamon rolls are accidentally vegan, including Trader Joe's Pumpkin Rolls. Here's a pro tip to make every bite taste just like the center: drizzle each roll with a few tablespoons of vegan cream (like Silk's Heavy Whipping Cream) before baking, making sure it runs over the sides. The dough will soak up the liquid without becoming soggy, so each fluffy, tender layer tastes like that wonderfully gooey center.
Go dairy free
3 Pumpkin Bagels
Pumpkin flour and pumpkin pie spice pack these seasonal bagels with flavor overload. We top ours with dairy-free cream cheese and pumpkin butter for a decadent morning meal. Note: Avoid gluten-free pumpkin bagels, as they contain eggs.
Trader Joe's
4 Pumpkin Rolled Oats
Sweetened with date paste, these hearty rolled oats deliver that pumpkin flavor you crave without the sugar bomb. They can be enjoyed chilled or hot, straight from the container, or topped with a dollop of crunchy almond butter. We've been known to pack them for lunches as well as breakfasts on the go.
Trader Joe's
5 Pumpkin Joe-Joe's
These cookies sell out fast. We think of you when we say go now and get enough Pumpkin Joe-Joe to last you through the season, because they won't last until November. The same logic applies to Jack-o-Lantern Joe-Joe's. These chocolate cookie treats don't taste like pumpkin, but their fun shape and limited-time availability make them impossible to resist.
Trader Joe's
6 Pumpkin Bread & Muffin Mix
Whether you need a quick sweet treat or prefer to keep your baking as simple as possible, this pumpkin bread and muffin mix makes baking manageable. The instructions call for a chicken egg, but that can easily be replaced with a vegan egg substitute.
Trader Joe's List/Instagram
seven Non-dairy pumpkin oatmeal beverage
This product simplifies creating your own vegan PSL. Pour one and a half ounces of espresso into eight ounces of non-dairy pumpkin oatmeal beverage and serve over ice for a frozen pumpkin spice latte. When lightly steamed, it also works as a hot drink. Garnish with a cinnamon stick or freshly grated nutmeg to cover the cozy.
Shopkeeper Joes Baking/Instagram
8 Oatmeal Cookie Mix with Pumpkin Chocolate Chunks
This homemade dry mix is ​​vegan as is and can be made with a simple flax egg or applesauce to replace the requested chicken egg. Pro Tip: Try baking the batter in an 8×8 square pan for thick, chocolatey pumpkin pie oat bars.
9 Kitchari
This savory cooked dish is not outside of pumpkin, but red pumpkin is the third ingredient, listed only after water, pearl millet, and split mung beans. In our eyes, it deserves recognition in the pumpkin hype. Kitchari is a hearty Indian dish with countless iterations depending on the region and even the family cooking it, but most kitchari meals are made with mixed grains, vegetables and warming spices. Really, this product is everything you need in one convenient pouch.
Trader Joe's List/Instagram
ten Pumpkin Spice Coffee
For just a hint of pumpkin spice flavor without the added syrups, try this homebrew. The medium-dark roast is infused with orange peel, cinnamon, allspice, nutmeg, vanilla bean and natural pumpkin flavor. Pair it with a splash of steamed oat or soy milk for a smooth cup of tea that doesn't have a harsh pumpkin flavor.
Trader Joe's
11 Pumpkin Spice Hummus
Don't be twisted for a tasty hummus — TJ's Pumpkin Spice Hummus definitely lands in the dessert hummus category. You bet it's a thing, and it's delicious. This seasonal spread is the perfect pairing with Pumpkin Joe-Joe's and crisp fall apples.
Trader Joe's List/Instagram
12 Creamy Organic Pumpkin Spice Cashew Yogurt Alternative
Thick, creamy, and packed with probiotics, this cozy cup of dairy-free yogurt doubles as breakfast, snack, and dessert. Top it with TJ's Grain Free Granola for a delicious variation in texture.
Trader Joe's List
13 Pumpkin gnocchi
Besides its tender and chewy bite, we love gnocchi for their super-fast cooking time. Once the water is boiling, you're two minutes away from a hot pasta dish. We would cover these pumpkin pillows with decadent vegan butter and fresh sage sauce.
Trader Joes Memphis
14Sugar Pie Pumpkins
Yes, real pumpkins! Unlike the massive gourds used for carving Jack-o-Lanterns, these smaller pumpkins are softer and much more manageable when it comes to gutting, cutting, and cooking. Roast one whole and use the flesh for a truly handmade vegan pumpkin pie.
For more vegan finds from Trader Joe, read: