Make room in your fridge: Hellmann's just launched Vegan Bacon Mayo.
Condiment brand Hellmann's has just launched three new flavors of vegan mayonnaise across Canada for a limited time. The brand, which currently offers an original vegan mayo, adds flavors of bacon, garlic and chipotle to its line-up. All three options are available at Metro and Sobeys supermarket chains across Canada, but only until September.
Hellmann's Vegan Baconnaise offers a smoky, umami flavor and can be used as a condiment for vegan burgers, fries, potatoes or pizza. Vegan Garlic Mayo offers a creamy taste of fresh garlic that can accompany burgers or vegan sandwiches, and Vegan Chipotle Mayo can be used as a dip for sweet potato fries.
To promote its new Vegan Baconnaise, Hellmann's is offering coupons for free products to residents of Canada if they have the name "bacon" on their social media accounts, live on a "bacon" street, or have "bacon" in their name. .
Hellmann's promoted the products in a similar fashion when it launched the three new vegan mayonnaise flavors at UK retailers earlier this year. There, the brand donated 250 jars to any UK resident who could prove their last name is 'Bacon'. Hellman's also sent 80 jars of Vegan Baconnaise to residents of Bacon Street across the UK.
The launch of vegan mayo
Hellmann's launched its first vegan mayonnaise in 2016 – then called "Vegan Carefully Crafted Dressing & Sandwich Spread" – as an alternative to its traditional Hellmann's mayonnaise but made without eggs. Before launching its vegan mayonnaise, Hellmann's parent company, Unilever, filed a 2014 lawsuit against San Francisco-based food technology company Hampton Creek (now known as Eat Just), alleging that its product Just Mayo was violating the mayonnaise standard of identity because he failed to do so. contain eggs.
After a lengthy legal battle over the use of the word 'mayo', Hellmann's dropped the lawsuit and obtained vegan certification for its own vegan product from Vegan Action, the national non-profit organization responsible for certifying many vegan products. in grocery stores. Despite its struggle with Eat Just over its use of "mayo," Hellmann's added vegan labeling to make it easier for consumers to identify its egg-free mayo product.
In 2016, the certified vegan spread (which Unilever sells under its 'Best Foods' brand in some regions) was launched in the US and Canada before making its UK debut in 2018 with the new brand. "Vegan Mayo".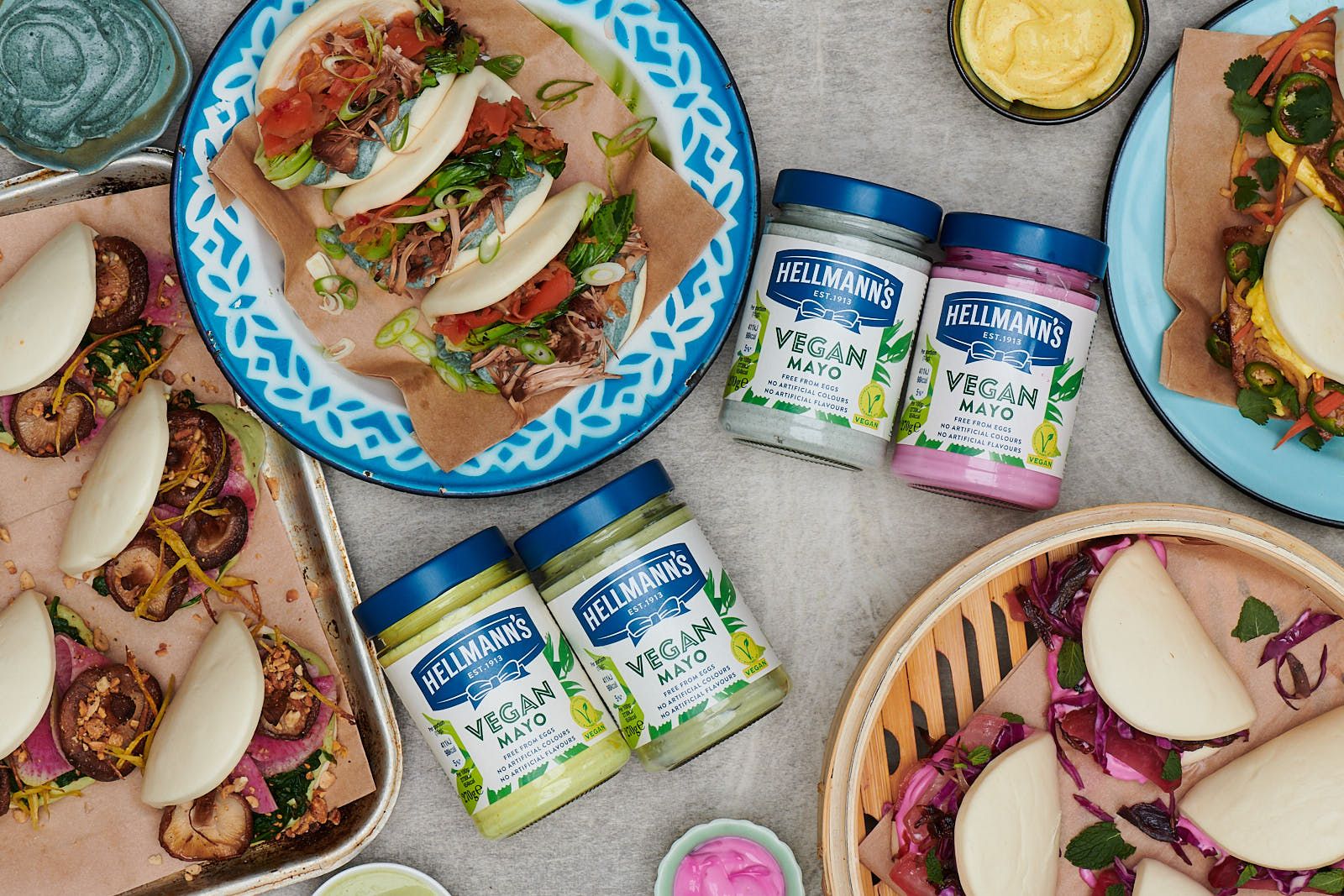 More vegan mayo flavors
Since launching its Vegan Mayo, Hellman's has offered several limited edition vegan flavors. Last year, the brand created rainbow-hued, "millennial-inspired" vegan mayo flavors in honor of the Veganuary campaign. Each flavor takes its tinge from plant sources including spirulina (blue), beets (pink), turmeric (yellow), and basil (green).
The flavors were only available in the Vegan Rain-Bao pop-up truck for two days in January in London, England, where Hellmann's served a variety of vegan bao (Chinese buns) to determine which mayo flavor was the more popular for limited potential. retail launch on time in the future.
Do you love the plant-based lifestyle as much as we do? Get the BEST vegan recipes, trips, celebrity interviews, product choices and more in every issue of VegNews Magazine. Find out why VegNews is the # 1 vegetable magazine in the world by subscribing today!
Subscribe