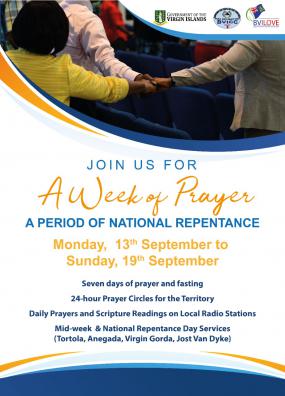 National Repentance Week begins September 13
The public is invited to join a national repentance week from September 13-19, led by the BVI Christian Council, in collaboration with the government of the Virgin Islands.
Prime Minister and Minister of Finance The Honorable Andrew A. Fahie said National Repentance Week follows 21 days of prayer and fasting as the people of the Virgin Islands continue to ask Abba, our Father , to keep us all safe and protected. in these difficult times as "a people" and "a Virgin Island".
The week will feature seven days of prayer and fasting, 24 hour Prayer Circles for the Territory, daily prayers and scripture readings on local radio stations and midweek services in Tortola, Anegada, Virgin Gorda and Jost Van Dyke.
Event coordinator Pastor Dr Joycelyn Hoyte explained that the goal of the week is "for us as a nation to understand God's view on sin and God's view on what is wrong. As a country we claim to be a Christian nation. If we are a Christian nation, we are meant to be a nation ruled by God. "
Dr Hoyte also noted: "Repentance is not an event; it is a lifestyle change – a change where we will see people, instead of looking to their own desires, they look to the Lord, "she added," We ​​call the nation to itself. repent because there are consequences. We should feel the national guilt and understand in the sight of God, sin will be punished and righteousness exalts a nation.
The week will end on Sunday, September 19, National Repentance Day, with a 3:30 p.m. drive-thru to the festival grounds in Road Town, Tortola, as well as the Crossroad in Anegada, the Walters Recreation Park on Virgin Gorda. and the lands of the Albert Chinnery administrative building on Jost Van Dyke, simultaneously.
Individuals are encouraged to contact their home church for more information on National Repentance Week, to make a special effort to attend services, and to log LIVE on the government Facebook page on Wednesday, September 15 at noon. and Sunday September 19 at 3:30 a.m.