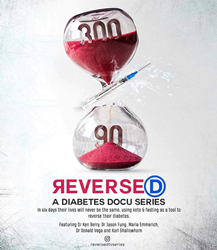 New Series Uses Keto To Reverse Type 2 Diabetes Airs On Glewed TV
In this captivating eight-part series, we showcase the use of the ketogenic lifestyle and intermittent fasting to help change the lives of these four people.
NEWARK, Del. (PRWEB)
01 October 2021
Award-winning filmmaker and television producer Charles Mattocks has launched an exclusive debut series on GlewedTV. Charles picked up his acclaimed Reversed series, which aired on Discovery Network and focused on reversing type 2 diabetes. Charles has teamed up with some of the best in keto and intermittent fasting, from Dr. Ken Berry, Certified Family Physician and Member of the American Academy of Family Physicians. He is well known for his work on the ketogenic / low carb lifestyle. Dr. Ken's book, Lies My Doctor Told Me, is critically acclaimed and it alone has over 1.5 million followers on YouTube. Dr Ken is seen on numerous outlets reaching millions of people with his health related content.
Dr. Jason Fung is a Canadian nephrologist. He is a global expert on intermittent fasting and low carbs, especially for the treatment of people with type 2 diabetes. He has written three successful health books and co-founded the Intensive Dietary Management program.
Maria Emmerich is an expert in wellness, nutrition and exercise. She shares a passion for helping others achieve their optimal health goals. She has published over 20 books and is the founder of Maria Mind Body Health and Keto-adapted.com. Maria is a major face in the ketogenic space and is recognized by her peers for her incredible keto recipes.
In this captivating eight-part series, we showcase the use of the ketogenic lifestyle and intermittent fasting to help change the lives of these four people. Shot in beautiful Costa Rica, Charles and the Reversed team took three people with type 2 diabetes and brought in some of the best experts in health, nutrition and mental health. They came together to help educate guests on how to reverse type 2 diabetes with diet, exercise, and a healthy lifestyle in general.
Lisa, who also appeared in the first season of Reversed, is back after her husband's death to regain her health. Jerome, who also featured in the first season, is HIV positive, living with type 2 diabetes and has heart problems, is also back after losing nearly 50 pounds and on doctor's orders stopped taking his insulin . This season features two new faces, Jannet, who is fighting to be healthy for herself and her two daughters, as well as Lisa's daughter, Amanda, who has chosen to participate to support her mother. The results are shocking and will blow your mind.
Charles partnered with keto and health partners to bring this project to life. These partners include: Keto Mojo, Keto Chow, Carb Manager, ENERGYbits, Pork King Good, Select Savory Seasonings, Stevia Sweet BBQ, Redmond Life, Secco Wine Club, Spring Health, Ketonessa, Lysulin, Labin and Kilosophy.
About Charles Mattocks

Every career development of celebrity chef Charles Mattocks has been in line with his desire to touch lives in a positive way. Inspired by his uncle, the late Bob Marley, Mattocks dared to dream big. After giving a stunning performance in the title role of Emmy nominee The Summer of Ben Tyler, Mattocks, a single dad, decided the Hollywood lifestyle wasn't the best for his young son and moved to across the country. Charles has appeared on The Today Show, Good Morning America, The Talk, Martha Stewart, CNN and Dr. OZ and others. Mattocks is no stranger to diabetes, having been diagnosed with type 2 diabetes and becoming a tireless advocate for diabetics around the world. Charles is determined to help stem the tide of this deadly disease. Mattocks began to use the media to reach the masses. He kicked off the first season of Reversed in 2017, with a vision and a passion for helping people live better lives.
About Glewed TV

Glewed TV was founded by a team of creators and technologists who have successfully launched several streaming channels over the past five years. Glewed TV is one of the ways cable cutters save money with free access to premium content on demand. No subscription fees are required to watch unique, engaging, immediate and convenient movies and TV shows. Glewed TV is ad supported and free on all platforms. Glewed TV sources and produces high production value content with over 25,000 hours available. Major categories of content include live TV, news, food, sports, crafts, documentaries, animal / wildlife, travel, comedy, and movies.
Share the article on social media or by email: