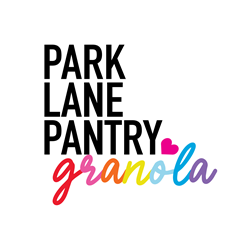 Park Lane Pantry, Dallas, Texas, named one of the 20 top 2021 HEB Quest for Texas Best finalists
MADE WITH LOVE IN DALLAS, TEXAS
DALLAS (PRWEB)
August 11, 2021
WOMAN FOUNDED, WOMAN OWNED – Granola guru Elaine Pearlman and marketing guru Tiffany Lustig are pleased to announce that Park Lane Pantry, a vegan granola company located in Dallas, TX, has been recognized as one of the 20 finalists in the 2021 HEB contest for The Best of Texas!
Each year, HEB highlights a select group of people whose work product stands out from the crowd. The 2021 competition heads to the final judging round with the top 20 contestants, who will present their products to a panel of judges selected by HEB on August 24-25, 2021 at the San Antonio Food Bank. They will determine the top four winning products and award the grand prize winner $ 25,000, the title of "Texas Best" and placement on store shelves; $ 20,000 to the first place winner; $ 15,000 to the second place winner and $ 10,000 to the third place winner.
A granola love story, Park Lane Pantry was launched in 2019 to present a new premium vegan granola as a delicious alternative to unhealthy sweet granolas that can be enjoyed as a snack, as a topping or to mix. The key ingredient that makes Park Lane Pantry Granola unique is the use of monk fruit as a sweetener. Monk fruit is a natural alternative to sugar. It contains zero grams of sugar and is suitable for ketogenic, diabetic, paleo, vegan, low-sugar, and all-natural diets.
ROOTS OF TEXAS. True to its name, Park Lane Pantry is a Texan brand born in a kitchen located on Park Lane in Dallas. It's a brand Texans can be proud of. Together, Elaine and Tiffany prepare, pack and distribute their products from their Dallas factory, with a lot of Texas-sized love. They are honored every time they hear from a local customer who says, "This is the best granola I have ever eaten!
THE PROMISE OF PARK LANE PANTRY. Taste and quality in small batches are top priorities at Park Lane Pantry. Their "brand promise" focuses on the use of premium natural ingredients. Their selected ingredients and small batch methods create a rich, authentic flavor, which gives their granola products a homemade, unprocessed taste. One taste and you will agree.
The 2021 finalist selection process is as ambitious as it is rigorous. The strength of this list of finalists is further proof that new companies and innovators are taking their rightful place as the driving force behind the entire food industry. "We continue to be amazed at what Texans bring to the table and how their designs are received in stores," said James Harris, Director of Diversity and Inclusion and Supplier Diversity. , HEB in the retailer's recent announcement. "The creativity and resilience of our food and non-food Lone Star creators have elevated this competition with another year of amazing stories and products."
https://newsroom.heb.com/heb-names-2021-quest-for-texas-best-finalist/
To learn more, visit: parklanepantry.com

Order today!
ABOUT ELAINE PEARLMAN
Elaine's love affair with granola began in 1987 at the Bluebonnet Cafe & Grocer on Lower Greenville in Dallas, Texas, one of Dallas' first health food stores. For more than 30 years, she has become a great connoisseur of granola. She traveled the world tasting granola and tasted every local version she could get hold of, from South East Asia to South Africa; from small towns in the Midwest to big cities like LA, NYC, Chicago and Miami.
Her search for the perfect crispy granola has led her to develop her own recipes and she has baked fresh granolas over the years as gifts for family and friends. But, above all for herself to add to her yogurt, her fruit or her oatmeal.
In February 2017, her world collapsed around her when she was diagnosed with breast cancer. Her determination to fight cancer with all she had has taken her on a long road of nutritional research. Her approach to recovery was holistic – guided by doctors, she adapted her nutritional, gluten-free and fat-adaptive routine.
Meanwhile, her homemade granola gave her the crunchy, sweet flavor she craved without sacrificing overall taste. It was the journey that led her to create the perfect granola recipe. It became so popular with friends that she decided to share it with the community. This is how Park Lane Pantry was born.
ABOUT TIFFANY LUSTIG
After 20 years as a Marketing Manager at a Fortune 500 company, Tiffany left corporate life to pursue an Executive MBA at SMU. It was in the entrepreneurship class of the program that her chapter with Park Lane Pantry began.
She needed a start-up to write a business plan and was put in touch with Elaine through a family connection. After doing a blind taste test where Elaine's Granola was selected over other popular brands, she realized the potential was there to turn this idea into a successful business.
Elaine invited her to become his business partner. They launched Park Lane Pantry in April 2019, and they've never looked back!
# # #
Share the article on social media or by email: