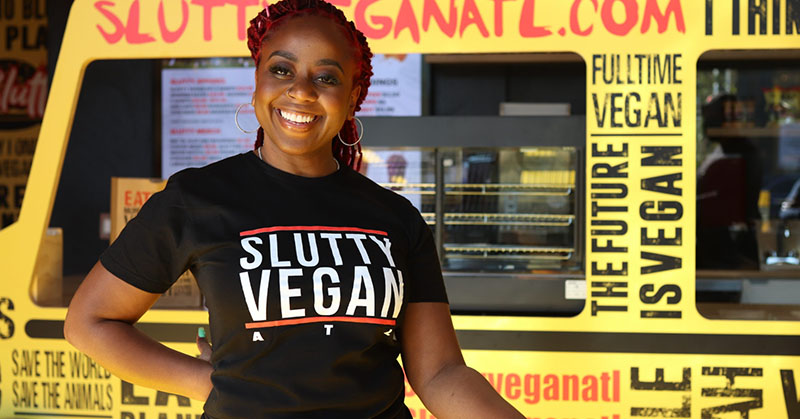 Slutty Vegan Kicks Off PETA's Food Justice Campaign With Free Meals
If you're in Atlanta, run – don't walk – to Charles L. Harper Memorial Park today, where Pinky Cole brings free Slutty vegan food to kick off PETA's Food Justice Campaign, which calls on the government to redirect meat, eggs, and dairy industry subsidies into incentives for grocers in low-income areas to stock vegetables, fresh fruit, and other healthy vegan foods.
free vegan slut
October 4th is the first day of PETA's Food Justice Campaign, and what better way to start than with free Slutty Vegan food? Pinky Cole, owner and founder of the beloved Slutty Vegan, will be serving up loaded bratwurst dripping with sauerkraut and their famous Slut sauce, as well as Buffalo chicken sandwiches stacked with coleslaw, pickles and vegan ranch. The best part? Everything is free !
PETA will also be offering its new vegan meal starter kits to promote a healthy plant-based lifestyle and remove the stigma that eating this way must be difficult or overwhelming. Starter kits are filled with tofu, soup mixes, fresh vegetables and fruits, and vegan recipes.
The event will begin at 3 p.m. on Monday, October 4 at Charles L. Harper Memorial Park, 61, boul. Joseph E. Lowery. NW, Atlanta, GA 30314.
PETA's Food Justice Campaign
PETA's Food Justice Campaign tackles the issue of food deserts and subsidized foods. The government spends about $ 38 billion in taxes each year to subsidize the dairy, egg and meat industries. Unfortunately, less than half of this amount is allocated to subsidize the fruit and vegetable industries. Most of these subsidies are given to large companies and not to small farms, making it difficult for farmers to compete with company prices, and making access to fruits and vegetables almost impossible for those who live in food deserts. .
The Food Justice Campaign, which will also have subsequent events in Baltimore, Detroit, Indianapolis, Los Angeles and other cities across the country, is a public call for local, state and government agencies to redirect funds from these corporate grants. to the grocers. in food deserts and underserved communities. With these financial incentives, grocers would be able to provide healthy options to their communities without financial risk.
To follow the campaign, check out PETA on Instagram, Twitter, or Facebook.
Photo credit: Sterling Pics