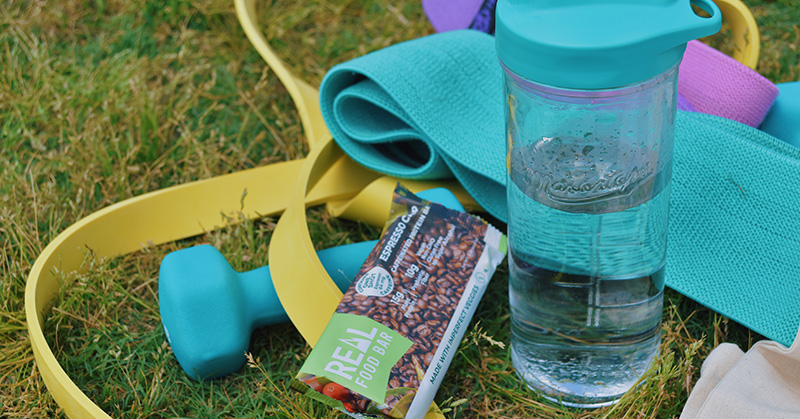 These vegan protein bars are made from recycled ingredients
Real Food Bar is a brand of plant-based nutritional bars that was founded by Anna Sullivan in Austin, Texas in 2019. These vegan protein bars are made from recycled ingredients and contain 15g of powerful plant-based protein per portion. Sullivan was inspired to start the business with her husband to fill a need for on-the-go snacks that could stand up to their adventurous lifestyle. The couple often grabbed these snacks for breakfast on busy mornings or enjoyed them on hikes, which explains the photos taken by Sullivan and her husband that now feature on Real Food Bar packaging. In an effort to create a bar with a complete nutritional profile, Sullivan began experimenting in the kitchen with real, whole ingredients. Almost two years later, Real Food Bar was born. And with tasty flavors like Espresso Chip, Chocolate Sea Salt, Peanut Butter and Cherry Cashew, they've been a hit ever since.
While Real Food Bar's goal is to provide a nutritious, plant-based protein option, the company has also made strides in creating a circular food economy through the use of recycled ingredients in the manufacturing process, which has a positive effect on the environment.
Let's take a closer look at what exactly recycled ingredients are and how Real Food Bar impacts health and the planet.
Ingredients that reduce food waste
In 2019, the Upcycled Food Association was founded to help companies better identify ingredients that reduce food waste and have a positive impact on the environment. According to the Upcycled Food Association, upcycled food is made from ingredients that otherwise would not have been intended for human consumption, is sourced and produced using verifiable supply chains, and has a positive impact on the environment. Recycled ingredients can consist of soft or bruised fruits and vegetables like avocado seeds, potatoes, and bananas, as well as grains like rye and wheat. The components of these ingredients may look out of whack, but they're still extremely safe (and delicious!) for humans.
At Real Food Bar, "ugly is beautiful," meaning the company takes imperfect or recycled ingredients — sourced from various growers in Canada, the Midwest, and California — and turns them into delicious snacks. Since launching in 2019, the company has managed to save over 500 pounds of kale, cauliflower and sweet potatoes that would otherwise go to landfill.
Create a circular food economy
By recycling ingredients like imperfect vegetables, Real Food Bar creates a circular food economy. According to the Ellen MacArthur Foundation, a circular food economy produces organic, healthy food using natural, regenerative, and soil-friendly cultivation practices. Additionally, any by-products or wastes can also create new foods, which in turn redistribute excess edibles.
Food for better health and planet
Real Food bars contain 15g of plant-based protein from peas, which are grown locally in Wisconsin and contain 85% protein per 100g (making them a tough competitor to animal-based protein sources such as whey). The fiber in the bars comes from tapioca fiber and is derived from cassava root. Plus, cherry polyphenols (great for inflammation!), 11g of prebiotics, and hidden micronutrients like kale, sweet potato, and cauliflower are also in the bars, making it a food for better health and the planet.
While Real Food Bar started with recycled kale, cauliflower and sweet potato, the brand has expanded its list of recycled ingredients to include coconut flour and Bing cherries. The company also plans to add peanuts and coconut oil to the list soon.
"We are in the process of preparing and have exciting plans to recycle additional ingredients including peanuts, peanut butter, coconut oil and coconut flour from Kenya, Uganda and Tanzania in partnership with Field Better, a platform that cuts out the middleman by working with 40,000 small farms with traceable and recycled ingredients," Sullivan told VegOut.
Where to Buy Real Food Bar Vegan Protein Bars
Real Food bars are available at select Whole Foods (Texas, Arkansas, Louisiana, and Oklahoma), Gopuff, SnackMagic, and Royal Blue Grocery, as well as online at walmart.com and Amazon.co.uk.
To find Real Food bars at a store near you or to buy direct with discounted recurring delivery options, visit RealFoodBar.com.