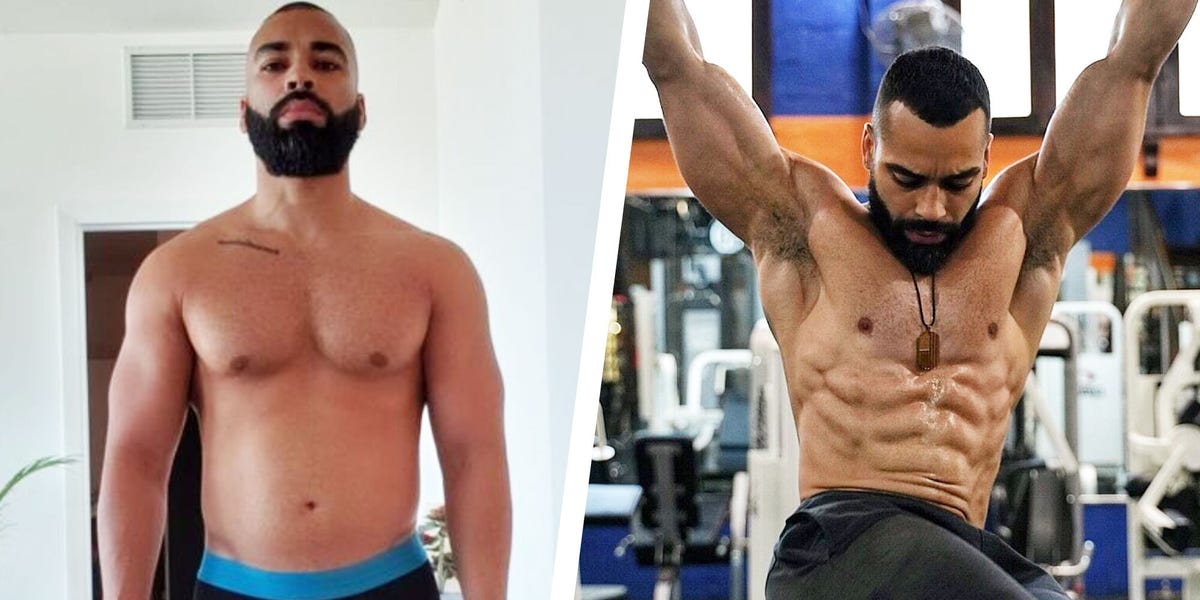 TRX Weight Loss Transformation and Keto Diet from a Personal Trainer
Fred Chevry is a 34-year-old personal trainer from Miami, Florida who now lives in Las Vegas, Nevada. After moving to a new country, two serious illnesses and stress at work, he gained more weight than he would have liked. Here's how he got back into shape.
Getting out of shape was basically a series of difficult circumstances. Immigrating from Canada to the United States was really demanding; working multiple jobs while having to rebuild my personal training clientele took a toll on my physique. Then my wife and I traveled to Thailand in the winter of 2019 and were both hospitalized after catching dengue fever. A few days after being released, I fell ill again with another tropical fever.
Then when we moved back to Miami the Covid lockdowns happened. The inactivity of "stay at home" orders was the final nail in the coffin. It was a good time to take a "before" photo. People who know me were more shocked by the before photo than the after!
I felt terribly unhealthy. It wasn't so much that I gained that much weight on the scale, but my body fat was steadily increasing while I was losing muscle. Due to the pandemic, I was glad I wasn't alone in my body struggle, but as a personal trainer, I felt it was kind of my responsibility to lead by example. I felt guilty, like, "Here I am with knowledge that could help others, and I'm not doing anything with it."
I knew you had to regain lost muscle mass before losing weight, so I hopped on a strength and muscle building program I created and started bulking up. I started out using a TRX suspension at home as a temporary fix, but the day the gyms reopened, I was back. I knew there was no way I could have done this transformation at home, unless I bought some serious weight lifting equipment.
My diet wasn't so strict at first, as long as there was enough protein. I kept an equal balance of protein, fat and carbs. I was eating around 3000 calories a day of healthy, clean foods, including chicken, salmon, rice, and veggies are my take-out options.
At the gym, I would train in a mix of strength and muscle building, five days a week, finishing with 30 minutes of stair climbing or basketball a day. It really helped me stay slim.
After gaining 10 lbs to reach 180 lbs I started cutting, going keto straight, eating lots of greens, fish, chicken, nuts, whey protein and eggs with the occasional keto-friendly dairy products to feel comfortable. And I can't forget the bacon.
During this cut, I lost about 20 pounds on the scale, but there was some muscle mass regained in the process. I thought losing a pound a week was a good speed to lose weight without compromising hard-earned muscle. I quit keto and went into reverse diet mode gradually reintroducing carbs the following week until my metabolism was back to normal.
I have seen changes everywhere after losing body fat, but having visible abs again is definitely the best part.
Now at 161 pounds, it's not so much what I eat that matters, but how much I eat. I'm still hitting my daily macros, but calorie intake has really been my main focus. Now my meals are a good balance of protein, carbs and healthy fats. I haven't gained any weight since I finished this weight loss so I guess it worked!
The main difference is portion sizes and snacks. I will now have an avocado or a handful of almonds instead of chocolate brownies for a snack.
Personal training is what I do for a living, but I would never be where I am today if it weren't for hiring a personal trainer almost 10 years ago. My old coach, Johnny, taught me everything I know and I never could have done it now if I hadn't worked with him back then. Being accountable to someone is also a massive incentive to push on when the going gets tough.
I believe being fit is a state that needs to be maintained, and it cannot be taken for granted. It's a good reminder that I'm not special, just a regular working guy, so I doubt I'm ever "done" with fitness. It's always been more like a moving target. My current focus is not as much on progress as before, but more on staying lean for the long term and making small improvements to key parts of the body.
My biggest piece of advice to anyone wanting to start their fitness journey is to get some help. Although I did it alone, I would never have understood it without having had my own trainer in the past. You can find tons of resources online, but having some sort of mentor is what I deeply believe in.
I've never met anyone who said something like, "I really regret being in shape," unless they did it in a short-sighted or reckless way. I think the hardest part has been restructuring my lifestyle around healthier habits, but it gets surprisingly easy over time.
This content is created and maintained by a third party, and uploaded to this page to help users provide their email addresses. You may be able to find more information about this and similar content on piano.io