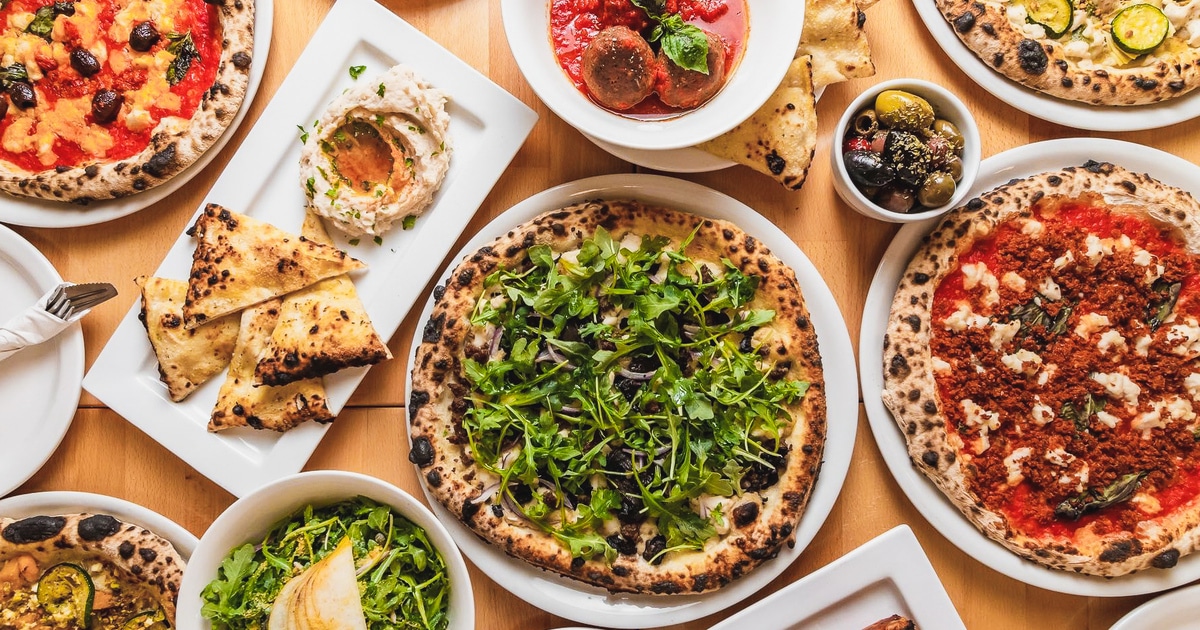 Vancouver's 9 Best Vegan Restaurants to Satisfy Every Craving
When I moved to Vancouver in 2016, I spent an entire year living off spoonfuls of peanut butter and various forms of potatoes in a dorm. It was a diet largely attributed to being a college student tasked with stocking my own fridge and pantry for the first time, but even more so not knowing what vegan dishes were available to me in my new town, nor where to start looking.
Six years later, asking me about the best vegan food in Vancouver is like asking a Parisian Disneyland employee every proposition he's ever seen – you better take off your coat and stay a little, because I've tasted everything, and Vancouver is at the top of its vegan game.
Heritage Vegetarian Restaurant
1 Heritage Vegetarian Restaurant
Plant-based brunch has seriously leveled off in recent years. Do you remember when finding non-dairy milk for your coffee was difficult? Now even Starbucks offers five different options for plant milk. For this glorious classic Vancouver weekend brunch, vegetarian restaurant Heirloom takes the crown, hands down. Available from 9 a.m. to 4 p.m. Saturday and Sunday, her Vegan Buttermilk Pancakes and Truffle Mushroom Benny with Turmeric Tofu, served with a freshly squeezed Grapefruit Mimosa, can cure Sunday fears.
Learn more
Meet in Gastown
2 Meet in Gastown
If that brunch craving strikes during the week, MeeT in Gastown awaits with a piña colada mimosa and heaps of perfect breakfast potatoes. Philly Cheez-Steak Hash, "Chick'un" Double Dough Oyster Mushrooms and Waffles, and a host of bennies can be enjoyed 1-4 p.m. Monday-Friday and 10 a.m.-4 p.m. weekends . Not to mention, their lunch and dinner menus are packed with hearty poutines, burgers, Mac n' Cheez and the best taco salad this side of the California border.
Learn more
Kind Cafe and Restaurant
3 Kind cafe and restaurant
If you're looking for a quick bite, Kind Cafe & Eatery in Mount Pleasant is the place to stop. Grab a delicious carrot bagel, one of the fabulous flatbreads, or your choice of a variety of TurF (a local health-conscious cafe) treats to keep your body fueled during those busy days. Kind is as popular for its zero-waste model as it is for its fresh meals and specialty lattes, so don't forget your tupperware and reusable mug! If you do, no worries, they will provide you with one for a small fee which will be refunded to you when you return it. No need to give up sustainability for something scrumptious!
Learn more
Pizzeria Grano
4 Pizzeria Grano
There's nothing quite like a global pandemic to really provide the impetus for finding great takeaways. Pizzeria Grano specializes in plant-based Vera Pizza Napoletana, which means they are literally certified in the art of "real" Neapolitan pizza. The hand-stretched dough, cashew mozzarella and plant-based gorgonzola are absolutely perfect – a must for pizza lovers, plant-based or not.
Learn more
Erin Ireland
5 Ogenki Sushi
What could be better than all-you-can-eat vegan sushi? All-you-can-eat vegan sushi from the comfort of your couch. We've all learned this during lockdown – pick a 'fun night' and order a ton. The dedicated vegan menu offers amazing options such as the red 'tuna' Nigiri made with marinated tomatoes and the pan-fried 'crab' Oshizushi. Recently in partnership with Reusables, take-out containers are now available in zero-waste packaging.
Learn more
black nightshade
6 black nightshade
Nightshade is made for dining out. Located in the heart of Yaletown, this beautiful establishment offers an unforgettable dining experience from the first sip to the last spoonful of the creme brulee dish. The menu is vegetable-focused, particularly highlighting the nightshade (yes, the name is literal) family of eggplants, tomatoes, peppers, red spices and more. Expect dishes such as crispy cassava with mint puree and spicy red curry aioli, agnolotti stuffed with cheeses from local vegetable creamery Blue Heron, and roasted zucchini and celeriac topped with ratatouille.
Learn more
MILA
7 MILA
If you're looking for jaw-dropping dishes in a more casual atmosphere, MILA's innovative approach to exquisite, plant-based comfort foods is sure to satisfy. Located in Vancouver's Chinatown, the fun and tasty menu features familiar dishes including burgers, noodles, sushi, tacos and fries smashed with miso butter so delicious you'll lick them off!
Learn more
Innocent Ice Cream Parlor
8 Innocent Ice Cream Parlor
Vancouver has so many delicious vegan desserts that no sweet tooth will ever go unsatisfied, as long as you know where to look. When the sunless days of Vancouver's winter are over and the ice cream cravings return, Innocent Ice Cream Parlor will be back in business. Opened in March, this rave-worthy spot is known for its thick, gluten-free Nice Cream cookie sandwiches. With four different cookie varieties and an abundance of dairy-free ice cream flavors to choose from, there are more combinations than days of the week.
Find our more
Tier V Bakery
9 Level V Bakery / Whisk Matcha Cafe
Don't forget a vegan croissant with that cup of matcha—this Mount Pleasant shared space offers both. The Level V Bakery and Whisk Matcha Cafe coexist in the storefront, pairing vegan pastries and baked goods with artisanal matcha drinks. Level V is also the perfect spot for party desserts. Order at least three days in advance for a tiramisu everyone will love, a moist matcha cake or a mouth-watering Earl Gray cake.
Learn more
For more Vancouver vegan dishes, read:
Vancouver gets its first vegan cheese factory
Owners of fried chicken shop open vegan restaurant in Vancouver
Vancouver Hospital has a vegan vending machine
Amanda Thacker is a charming dinner guest and first-time seamstress who writes about people, art and sustainability from her home in Vancouver, BC.
Get our Best of Vegan issue for FREE when you subscribe to VegNews.
Subscribe
Get our Best of Vegan issue for FREE when you subscribe to VegNews.
Subscribe