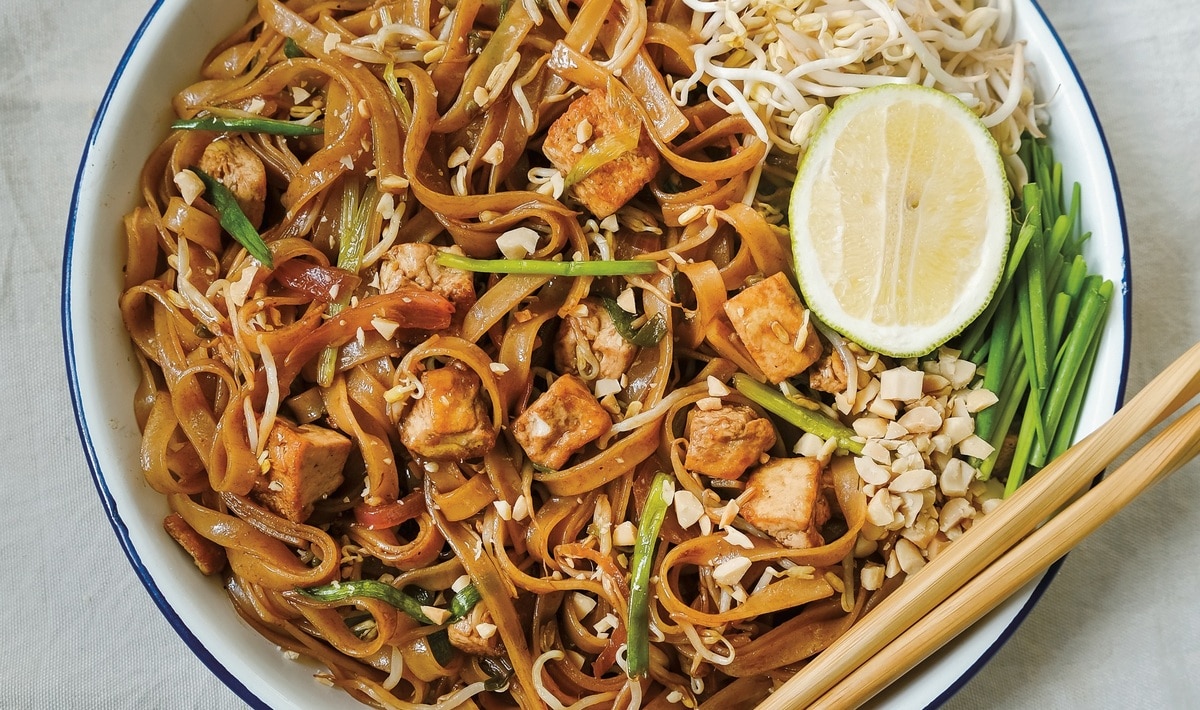 Vegan Pad Thai in Sauce with Crispy Fried Tofu
This sweet and savory Thai noodle dish from Asian Vegan: A Cookbook has the crunchiness of bean sprouts and peanuts and added heat from a generous pinch of red pepper flakes. Find vegan fish sauce at specialty vegan markets or swap it out for more soy sauce in this recipe.
What do you need:
¼ cup coconut sugar
¼ cup vegan fish sauce
1 tablespoon of soy sauce
1 tablespoon of lime juice
2 tablespoons of tamarind puree
1 package (8 ounces) dried rice noodles, at least ⅛ inch thick
3 tablespoons of neutral oil
1 block (7 ounces) extra firm tofu, pressed and sliced ​​into ½ inch cubes
1 small white onion, sliced
2 garlic cloves, chopped
2 cups of fresh bean sprouts, plus more for serving
1 green onion, sliced ​​into 2-inch strips
1 lime, cut into wedges for serving
1 tbsp red pepper flakes, for serving
2 tablespoons sliced ​​green onions, for serving
2 tablespoons chopped roasted peanuts
What are you doing:
In a small bowl, combine the coconut sugar, fish sauce, soy sauce, lime juice and tamarind. Put aside.
In a large heatproof bowl, place the rice noodles. Cover with boiling water to completely soak the noodles for 6 to 7 minutes, or until white and more translucent. Drain and set aside. 3. In a large skillet over medium-high heat, heat the oil. When hot, add the tofu and fry, turning about every 2 minutes, until golden brown and crisp on all sides, about 10 minutes in total.
Move the tofu to the side of the pan and add the onion and garlic. Sauté until cooked through, about 1 minute. Add the rice noodles and the prepared sauce.
Mix well and cook for 5 minutes, or until the noodles are cooked but still a little soft. Lower the heat to medium and stir in the bean sprouts and green onion strips. Cook for another 2 minutes or until the bean sprouts are tender.
Divide the noodles between two serving bowls, each with a generous squeeze of lime, sprinkle with red pepper flakes, green onions and peanuts. Stir and enjoy hot.
Love vegan food and cooking as much as we do?
Get the BEST editor-tested recipes in every issue of VegNews Magazine. Find out why VegNews is the 1st vegetable magazine by subscribing today!
Subscribe