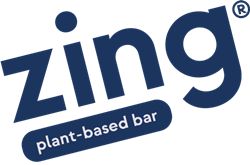 Zing Bars Recognized as "Bar Product of the Year" in 2022 Mindful Awards Program
Mindfulness isn't just in the company name, it's an integral architectural element of how zing approaches the market. We're proud to offer nourishing wellness bars for conscious noshers – Grace Erickson, CEO of Zing Bars

LOS ANGELES (PRWEB)
June 08, 2022
The 2022 Mindful Rewards Programan independent recognition platform spotlighting mindful companies and products that are consciously making waves in the ever-expanding world of consumer packaged goods, today announced that Mindful Nourishment LLC (dba Zing Bars), an innovative manufacturer and distributor of 100% plant-based snack bars formulated by professional nutritionists, has been selected as the winner of the highly competitive "Bar Product of the Year" award.
Zing Bars are true all-plant based nutritional bars formulated by professional nutritionists. Zing Bars provide healthy fats, "good for you" carbohydrates and low glycemic sweeteners. With its line of all-vegan and keto products, recipes focus on taste appeal while providing the benefits of improved energy, digestive health, and immune support. The bioavailability of zing bars is nourishing and was developed by nutrition experts, dedicated to the life-changing benefits of good nutrition.
Zing uses healthy, lean proteins that provide all essential amino acids, and are soy-free, strong, and rich in vitamins and minerals. The protein is a perfect blend of nuts, seeds, brown rice, and almond protein. Meanwhile, heart-healthy fats boost the immune system, support cellular function, help manage cholesterol, and contribute to a healthy metabolism.

Plus, by including low-sugar, high-fiber, and nutrient-dense complex carbohydrates, the bars provide longer, lasting energy.
Zing minis are also popular with kids as a nutritious snack that leaves them full and armed with sustained energy, adequate protein and fiber.
"What an honor to receive this amazing Mindful award – especially in a year where we're focused on making waves by recommitting to providing snacks that meet our own rigorous standards. We remain focused on providing plant-based protein, fats good for you and energizing low glycemic carbohydrates in a nutrition bar that will fuel you all day," said Grace Erickson, CEO of Zing Bars. "Mindfulness isn't just in the name of the company , it is an integral architectural element of how zing approaches the market. We are proud to offer nourishing wellness bars for conscious noshers.
The mission of the Mindful Awards program is to honor conscious companies and products that do what is good for people and the planet. Recognize the best of transparent, fair trade, natural, organic, sustainable, healthy and delicious products. This year's program attracted more than 1,650 applications from companies around the world. All nominations are evaluated by an independent panel of consumer packaged goods industry experts, with winning products and companies selected based on a variety of criteria, ranging from brand principles, environmental impact, health, taste and transparency.
"Eating regularly throughout the day means smaller meals divided by snacks. However, finding a healthy snack can be problematic. Most snack bars taste bad or are little better than candy bars. L "Artificiality has no place in a balanced, healthy, macro-focused approach to snacking. The perfect snack bar combines two essential elements: incredible taste and the benefits of great nutrition," said Travis Grant, Director General from Mindful Awards." Unlike many others in the category, Zing Plant-Based Protein Bars taste fantastic, naturally. They also help maintain consistent, reliable energy for hours after eating. With full flavor and robust nutrition in an attractive package, zing bars provide nutritious ingredients for mindful eating and a healthy lifestyle. Congratulations on being our pick for "Bar Product of the Year".
####
About Mindful Pricing

The Mindful Awards organization is dedicated to honoring mindful companies in the consumer packaged goods industry that are building the foundation for our future. The Mindful Awards are dedicated to providing a forum for public recognition around achievement in the Foods, Beverages & Snacks, Supplements, and Leadership categories. The aim of the Mindful Awards is to further broaden the recognition of mindful businesses. For more information, visit MindfulAwards.com.
About Zing Bars:

Zing recipes maximize taste appeal while providing the ideal benefits of improved energy and digestive health. Artificiality has no place in a balanced, healthy, macro-focused approach to snacking. Each product in the Zing line is formulated by professional nutritionists and includes nourishing ingredients for conscious noshers and nature-sensitive kids.
For more information:

https://zingbars.com
Share the article on social networks or by e-mail: